Hi All,
I have created a cloudless mosaic in EO Browser using the cloudless mosaic custom script.
However when I try to download this in Hi-Res I get the following error. "An error has occured while fetching some of the images: Network Error".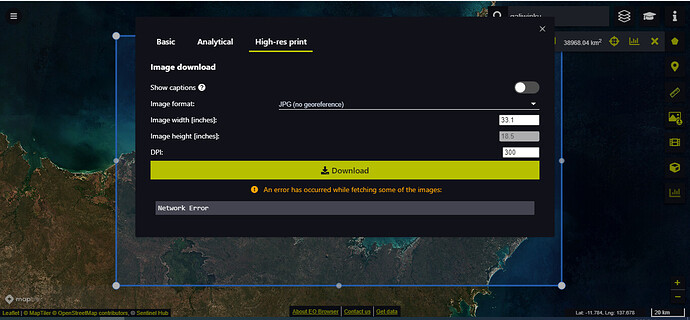 Reducing the size/resolution of the area being downloaded resolves the issue, but to get the resolution I'm after (approximate 14,000px wide image) would require a large number of downloads and then stitching them together.
The "How to create your own Cloudless Mosaic in less than an hour" tutorial looks like what I need, but using "Batch" mode seems to require a 400 euro/month plan. I would be happy to pay to download the image, but this is a one off personal project so 400 euro is a bit out of my budget.
Is there another or better way to do this? Any help would be much appreciated.
Regards,
Steve