In the Discover Tab between Search and Highlights, a new feature has found its way into EO Browser: Commercial data.
It provides a simple and straightforward way to search available commercial data for your AOI and order it with just a few clicks. We currently support Planet PlanetScope, Airbus SPOT, Airbus Pleiades and Maxar WorldView data.
Search one of the data archives in the desired time range and AOI, check which images are available and add them to your order, specify your order details, confirm your selection and view the status of your order.
Check out our short tutorial: Commercial Data in EO Browser - YouTube to see how the new feature works.
To use the feature, all you need is an active Sentinel Hub subscription and to purchase data, per-purchased quota in your account for the constellation you are interested in.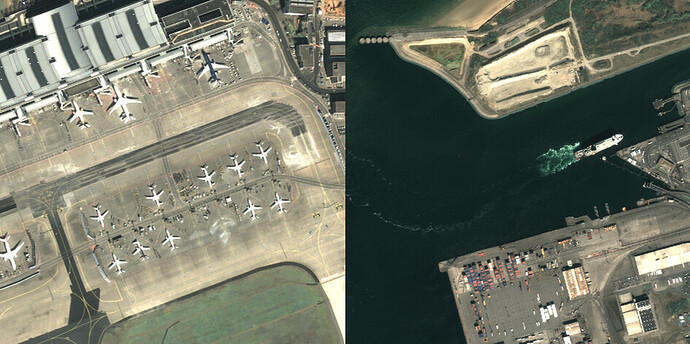 Very High Resolution (0.5 m) Pleiades (© CNES (2021), Distributed by AIRBUS DS) imagery, which can be searched and ordered in EO Browser using the new Commercial Data feature (on the left, parked airplanes during the Covid pandemics in April 2020 at the Frankfurt airport, on the right, the port in Dunkirk)