Dear Community,
I recently started to work with Sentinel-3 SLSTR LST products and ran into a grid related issues.
Name of the product I'm looking at is S3A_SL_2_LST____20200813T205837_20200813T210137_20200815T023725_0180_061_314_0720_LN2_O_NT_004 You can download it from scihub.copernicus.eu if you want.
So the problem is that the pixel coordinates (in the geodetic_in.nc file, longitude_in and latitude_in variables) do not seem to be on the expected 1Km grid.
I plotted the coordinates of the first and last 25 columns and rows on a map and this is what I got: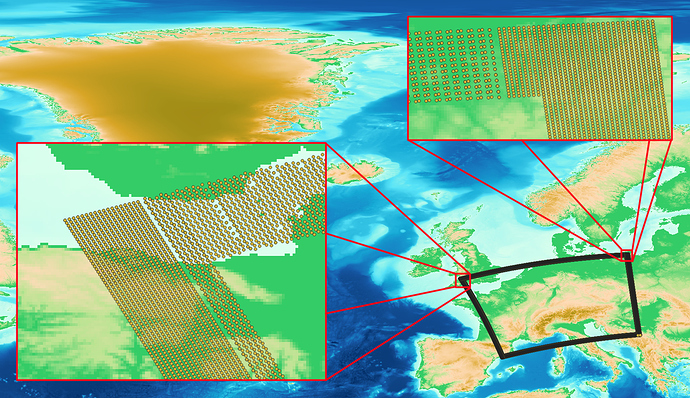 As you can see, on the left hand side in the first 18 columns and on the right hand side in the first 32 columns the pixels are evenly distributed, but the rest of the coordinates do not follow this pattern which is surprising to me.
It is also visible that there are missing points in the inner part.
However, the most interesting is that there are quite a lot of duplicate coordinates. This is particularly confusing because I thought that's what we have the _orphan variables for.
Is there an explanation for the 2 different pattern in the distribution, for the missing and duplicate coordinates?
Many thanks
Zoltan