Hi all,
My questions. For introduction and detail see the rest of the post.
Why is the historical NDVI not available before 2016?
Why are available data not regular but seem to be randomly distributed in time?
Why do those characteristics (historical depths and distribution of date availability) change completely from one place to another ?
Disclaimer : I come from data analysis world, not EO. I apologies in advance for all obviously stupid questions I might ask.
Goal :
I want to extract time series of the NDVI average of some different locations on the world.
What I did :
So I used the Statistical info API for that.
Using different places on Earth, I requested available data, and I was surprised, because :
No matter the dates I choose for the request, there is no data available before 2016
Available dates are not regularly distributed across the time, but look random
History and dates distribution is really different from one place to another
One of the request I made : http://services.sentinel-hub.com/ogc/fis/MyID?LAYER=NDVI&STYLE=INDEX&CRS=EPSG:4326&RESOLUTION=10m&TIME=2000-01-01/2018-12-31&BBOX=-54.8625146271707,-68.6261626271707,-54.8544133728293,-68.6180613728293
The result I get (the circles are when data is available, lines are intervals without data):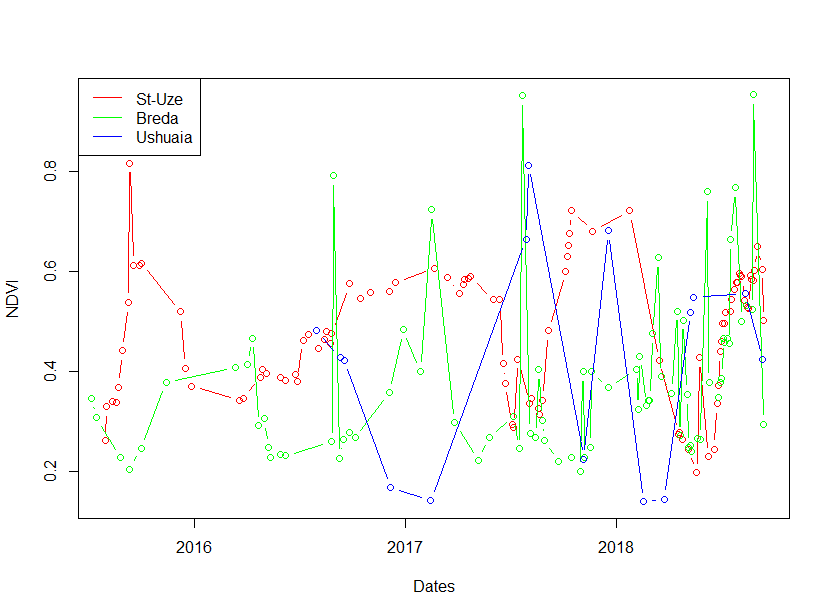 Thanks in advance for your hints.