Hello,
I am building a dataset and need to scan through archival Sentinel-2 imagery and make a note of all clear imagery over a specific location. I am searching in Svalbard, where there are often two images per day due to the S2A and S2B orbits. For instance below, for 2021-08-17 there is an image at 12:58 and at 12:08. The cloud has moved slightly, so i need to check if the location is visible in both, one or none of the collected images.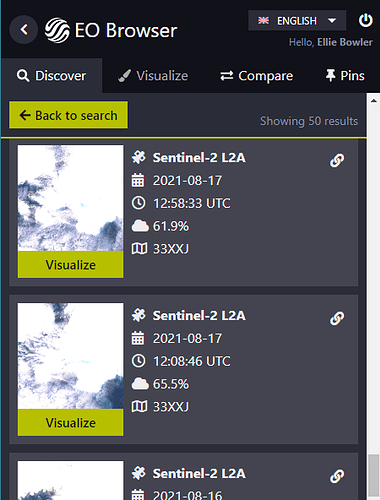 When i select visualize for each image, the view does not seem to change in the browser. I have tried adding each to the "compare" tool and they are clearly showing the same image. The calendar only shows the specific day, but i'm not certain how you can tell which image is displayed if there are two images on the same day.
Is there a way to check this? Or for instance to restrict the search to S2A and S2B so i can scan through them separately? Also the list of images in the Discover tab resets to the beginning each time i go between Visualise and Discover. I was wondering if there is a way of making the specific image you are viewing highlighted, and keep the list view fixed on the last tile visualised rather than resetting the the start each time.
Thanks very much for any advice!